Create Your Own Event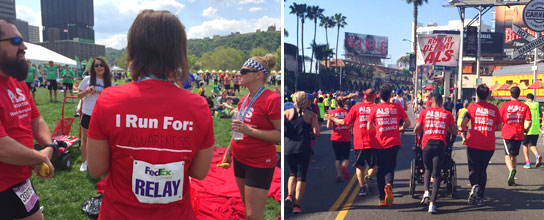 Team Challenge ALS is The ALS Association's endurance program to help fight ALS. Participants combine their passion and commitment to finding a cure for ALS while achieving physical challenges through athletic events, such as marathons, long-distance rides, triathlons, obstacle courses and iron man races. We have several chapter sponsored Team Challenge ALS events.
Even if you don't see your preferred endurance event on our chapter sponsored events page, you can still be a part of the team! Sign-up for the event as you normally would on their event website. Then, dedicate your race to the fight against ALS by fundraising to support The ALS Association! Or you can create your own endurance event, and still be a part of Team Challenge ALS.

Using our special platform – One Dollar Difference – you'll be able to customize your own web page, set a fundraising goal, and keep track of the gifts you receive to benefit The ALS Association!
Six easy steps to create your fundraising page:
Click here to start your endurance event. (This will take you to The ALS Association's One Dollar Difference website.)
Select the Chapter (or National Office) that you would like your event funds to support, and choose 'Start an Event'.
Fill in your Event Name & Fundraising Goal.
Select "I am a Team Challenge ALS Athlete".
Finish the rest of the registration prompts and your page will be up and running.
Start asking your friends & family to support your efforts!
If you are participating in a chapter sponsored Team Challenge ALS event, please register here.
Benefits of participating as a Team Challenge ALS Athlete:
Ongoing tips and support will be provided for participants to make their fundraising experience enjoyable and easy.
Training support – contact Colleen O'Farrell for training schedules.
Every dollar you raise can make a difference and impact ALS!
For more information about ALS, click here.
For more information about our programs, click here.
If you have questions, please contact Colleen O'Farrell at cofarrell@alsa-national.org. 202-464-8822.