Team Challenge ALS Champions
---
Heidi Smith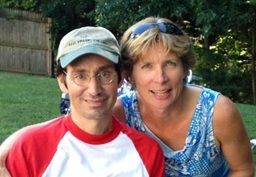 When my husband Frank was diagnosed with ALS we were stunned. He would get up early in the morning to get a workout in before work. He was always running around with the kids and very active.
Frank was diagnosed with ALS and told, "If you have always wanted to take a trip, now is the time to do it." The next day we bought a mini cooper and started planning a trip to Italy.
We got involved with the Northern New England Chapter of the ALS Association shortly after Frank was diagnosed – they were always very supportive and provided guidance for us as we struggled to live with this illness. We received information about the illness, attended support groups, and borrowed equipment from the loan closet.
This disease is horrific. Frank stopped walking, and lost his ability to eat and talk. There is no cure and little treatment. It is so hard stand by and watch the person that you love deteriorate.
This year we did the Spartan race as members of Team Challenge ALS and it was incredible. It has really invigorated me and I can't wait to do it again next year. During the race, we climb over walls, crawl under barbed wire, slog through mud and jump over fire. Thinking about Frank gives me the strength to keep going. Frank lost his battle with ALS. I still do it for Frank and others who have ALS. Those coping with the disease on a daily basis face a much bigger challenge simply going through daily tasks. Surely, we can face the hurdles of the Spartan race for one day. Join #TeamChallengeALS.
---
Matt Chaney
How am I still alive after 14 years with ALS?
It was March 2000 when ALS reared its ugly head and entered my life. I noticed some numbness that was originally diagnosed as Carpal Tunnel Syndrome (CTS). However, a visit to a neurologist "thought" I might have ALS. I had heard of Lou Gehrig's disease and knew the implications of the diagnosis. I was told most people succumb to the disease within two to five years.
At the onset of being told that I had ALS, I made a conscious decision to meet it head on and do what I could to help find a cause, treatment or cure. From 2001 to 2004, I made myself available for every study and trial I could enter.
It has been 14 years since I dropped my guitar pick on an early spring night. Those familiar with ALS know that walking, talking and breathing unaided in that many years are very rare. Many people ask, "How do you do it?" The honest answer is that I don't know. My best guess is I have an ultra-slow progression. I also try to maintain a positive outlook and good attitude despite living with ALS.
Although I was excluded from drug trials after 2004, I still wanted to help in some way and to be involved with finding a cause, treatment or cure for this disease. I became aware that 7 walks were scheduled by a local ALS chapter and my question was "had anyone ever completed all 7 walks?" It turns out I was the first to complete all 7 walks. After all walks were complete, my team had raised $104,000. Since getting involved with the Golden West Chapter, my fundraising efforts have exceeded $500,000. I have also done a lot of public speaking to bring awareness to ALS. I am currently on the Napa Valley Ride Committee and I am an ALS Champion. I will continue my efforts in the fight!
---
If you are interested in becoming a champion for ALS, please contact Colleen O'Farrell at cofarrell@alsa-national.org.