November 2012
---
Ask the Doc: Q&A with Edward Kasarskis, MD, PhD
Advice About Caregiving

Q: What is the best way to support your loved one at an ALS Association Clinic appointment?

A: This is an important question because the role of the caregiver, usually a spouse, is perhaps the single most important factor in effectively dealing with ALS.

In our clinic, we frequently comment among ourselves that we do not really understand how a caregiver physically can do this day in and day out. While most physicians and other health professionals have never actually experienced giving daily direct care to an ALS patient ourselves, here are a few thoughts "from the outside looking in."

Caregiving can be overwhelming and exhausting, meeting the physical and emotional needs of someone you love while also managing the details and stresses of running a household, and possibly fulfilling the role of a parent of a school age child in addition. So, how do they do this?

Preparation. Before you come to the clinic, be prepared. Bring a list of all the medications your spouse, partner, parent, or family member is taking, with the specific doses and other details. Better yet, bring all your medicines in a zip-lock bag. Also be sure to write down a list of all your questions – large and small – so you'll really remember to ask them. It's just like keeping a running grocery list at home so you don't forget anything important when you go to the store. Having the list really helps.

Communication. In addition to the questions you bring with you, be sure to ask about anything you don't understand as you talk with the ALS neurologist, respiratory therapist, physical therapist, nutritionist, occupational therapist, and nurse. If you don't understand something or if you are unsure how to execute something they're suggesting, get more information or even ask for a demonstration. This may be particularly true in the case of PT and OT recommendations.

Take a notepad and take notes so you can review them later when you have more time. Bring your iPad to watch a video demonstration about transfer techniques. Some suggestions will sound easy enough at the clinic but when you get home, you may find you have more questions.

Much of the journey with ALS is on-the-job training. You keep learning new things as the situation changes. Sometimes when you're in the clinic you'll find you'll be working with the ALS team to solve a problem that is specific to you. The most successful caregivers and patients work together with the ALS team to actively problem solve, communicating what they think is the best approach given their circumstances, and what they do and do not understand.

Confidence in going forward. The Clinic Team will outline a general roadmap for the future, indicating the next likely challenge and alerting you to the potential solutions. For example, this might be something like, "On the next visit we will be discussing and probably recommending a gastrostomy tube for nutritional support." Sometimes that may be psychologically difficult to hear. Who wants to face a problem before they have to? But knowing you're ready for what may happen next – perhaps having a walker ready, or understanding what communication devices will be available to you should you need them – helps reduce the innate resistance to change and problems, and ensure you will have what you need when you need it.

Confidence in going forward also comes from taking care of yourself physically and emotionally. I know, that's easier said than done when you've got so much on your shoulders. Remember that your health and wellbeing are critical to the health and wellbeing of your loved one. If you get run-down, you risk personal injury and illness while you are helping your family member with ALS.

So if you can, get help from someone to assist you in running your day-to-day activities and managing the chores, errands, and hassles of everyday life. Try to minimize fatigue by building in breaks and doing things just for yourself: taking a walk or seeing friends at the corner coffee shop. Having some personal time is priceless and important. Make sure you can regularly have a little respite from your virtual non-stop responsibilities.

If you would like to submit questions for a future Q & A, please send your questions to theexchange@alsa-national.org. Please understand that we won't be able to address all questions and we won't be able to respond to individuals personally.

Edward Kasarskis, M.D., Ph.D. is Director of the University of Kentucky ALS Multidisciplinary Clinic in Lexington, Kentucky, professor in the Department of Neurology at the University of Kentucky, and Chief of Neurology at the VA Medical Center in Lexington KY.

---
Celebrating National Family Caregivers Month
In recognition of National Family Caregivers Month, we have put together a variety of information related to caregiving that may be of interest to you:
Acknowledging and Honoring Caregivers with our eCard
For National Family Caregivers Month, send a "thank you" eCard to caregivers you know and appreciate. Acknowledge and honor their contributions in this thoughtful and meaningful way.
The program is provided by The ALS Association for everyone through a simple link.
Just click here: http://web.alsa.org/site/Ecard?ecard_id=3101
Supporting Caregivers

Caring for the caregiver: So much time and energy goes into caregiving, it's often hard for the family members responsible for the person with ALS to take care of themselves. Here are some tips for family and friends that may help provide needed support for the caregiver
Encourage them to take some time off – for an hour, an afternoon or a weekend. Help them to do something special for themselves, such as a shopping trip, an art class, a trip to see a friend or an afternoon at the museum. Help coordinate a group of friends to provide the necessary support to allow the family caregiver to feel free to get some respite time.
Acknowledge what they do. Send notes, emails, cards, flowers, books, candy – whatever fits the caregiver's personality and interests. Small things go a long way to communicate that you're thinking of them.
Help make sure caregivers take care of themselves. Offer to stand in for them when they go to the doctor or dentist, or when they want to take a walk. Their health and happiness is critical to their mission of supporting the person with ALS.
Keep them in the loop. It's easy to get out of sync with what's going on in the community when you're busy being a family caregiver. Keep them abreast of news and what's happening in the organizations they've been interested in. Even if they can't regularly participate, just staying in touch will be helpful and appreciated
Getting Practical Tips on Caregiving
There are a variety of resources available online to provide tips and training that can help make caregiving easier. YouTube has educational videos that teach caregiving skills on a range of topics. Here's one, for example, on how to safely transfer someone from the bed to a chair: http://www.youtube.com/watch?v=BHrdnGdxYzs.
There's also a good website, called "The Unprepared Caregiver," that offers a wide range of advice, information and encouragement: www.unpreparedcaregiver.com
Accessing Benefits and Resources:
---
How to Understand Your Lab Results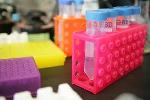 It's getting easier than ever to get your lab results directly to you. That means rather than waiting until your physician's office phones you, the information can be sent straight to your mailbox or email from the laboratory.
Getting the data before you're with your healthcare provider has pros and cons. Sometimes the information is hard to analyze without the help of a professional.
But often, knowing which numbers are out of range before going to an appointment will give you some time to research the tests and better understand the potential implications.
Sometimes that "heads up" makes it easier to formulate questions and get more out of the conversation you'll have with your physician. Also, going to an appointment knowing ahead of time what's normal and what isn't can take some of the fear and apprehension away.
Getting your lab work delivered to you at the same time it's sent to your physician can be easy in most states. Just ask the lab if they provide that service. In some states, you may need your physician to note on the lab order "OK to release results directly to patient."
There are some good resources to help analyze and better understand lab results. Here are two:
Lab Test Interpreter http://labtestinterpreter.about.com/ Produced by Harvard Health Decision guides, it's easy to use, (but only provides guidance on only a limited number of tests)
Lab Tests Online http://labtestsonline.org/, helps explain lab results and offers a broad range of information to help put the data in context.
Lab results are typically presented in columns, with indications of whether your data is within normal limits or is considered low or high. It's important to understand that labs can differ a bit in what ranges they consider normal and how the tests are done.
When you get your data, look for tests that ended up "too low" or "too high." If you don't understand what that means, go to one of the lab interpretation tools and learn more.
For example, Lab Test Interpreter asks you what test you're interested in, why you had the test (routine, follow-up on an issue, new diagnosis), asks a few questions related to the test, and questions whether you have certain symptoms. Then it offers next steps.
It isn't hard to pre-educate yourself before talking with your healthcare provider and it really helps. The data reduces your potential problems down to something you can learn more about and better understand. Then you can process the information and then be intellectually and emotionally ready to do what you need − and want − to do next.
By Barbara Bronson Gray, RN, MN
---
Participate in these Educational Web Calls
The Role of the Immune System in ALS
Hosted by The ALS Association's Research Department
Tuesday, November 13, 2012, 1 pm. Pacific Standard Time (4 pm. Eastern)
Speaker: Howard Weiner, MD, Brigham and Women's Hospital
Harvard Medical School
Access Information:
To access the online portion of the call where you'll be able to view the slides and submit questions:

1. Go to the link: https://alsa.webex.com/alsa/j.php?ED=172729047&UID=1233708697&PW=NNjg1OTUxNmE3&RT=MiM3
2. Enter your Name and email address on the right hand side to enter the meeting
3. Click Join
*If at any time you are asked for the password to join the call, please enter Chicago1*

Once you are able to view the meeting contents, a box will pop up asking for you to enter a phone number. Please enter the number where WebEx can call you to have you join the meeting. You will receive a call within seconds asking you to "Press 1 to join the call". At this point you have fully accessed the call.

Communication between Caregivers and those with ALS

Monday, November 19, 2012, 11 am Pacific Standard Time (2 pm Eastern)

Speaker: Alisa Brownlee, ATP, The ALS Association Greater Philadelphia Chapter

Access Information:
Call-in toll-free number (US/Canada):1-877-668-4490
Session number: 827 014 887
Session password: Atcall1

https://alsa.webex.com/alsa/k2/j.php?ED=171925742&UID=0&HMAC=1bf1e5bd409be3080bbfc0d619be5c8f68e140e6&RT=MiMxMg%3D%3D